For the first time, the 14th international fablab conference, FAB14, will be held in France in July 2018. Stages are programmed all across the country on the 14th and 15th (Fab Distributed) and then, the event will converge towards Toulouse from the 16th to the 22nd.
After the solidarity stage in Auray July 14th and 15th, FAB14 will go on in Toulouse from the 16th to the 20th with the "professional" week gathering hundreds of fablabs and organizations from the five continents. The fablab festival will then take place for anyone who is interested during the weekend (21st and 22nd).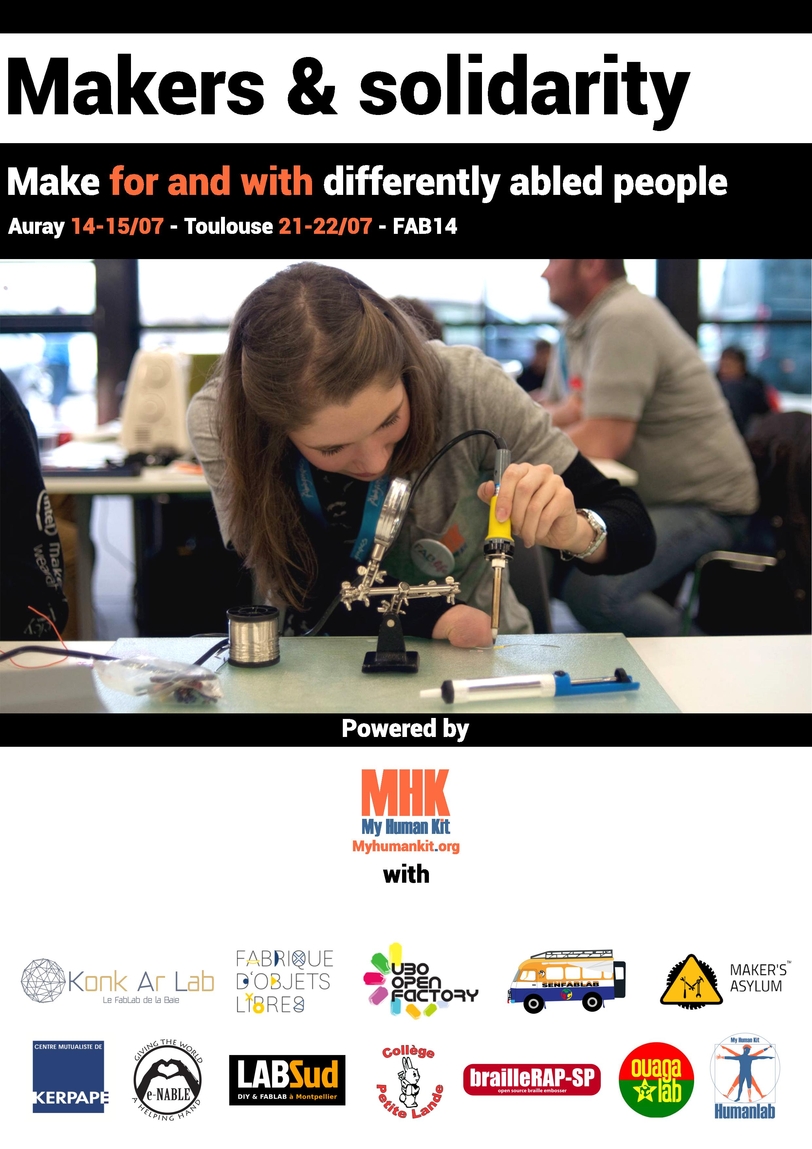 Braille printer (Braillerap SP), bionic prosthesis (Bionicohand), hearing aid (Ganesh, Lyon), communities (E-nable – the USA/world), events and formation (Steam Fabrikarium India, Humanlab Rennes), education and solidarity (Handilab Brest, Humanlab Africa Dakar): a unique opportunity to meet the emerging scene gathered on FAB14 by My Human Kit.
With the exceptional participation of Jon Schull (E-Nable), Mouhamadou Ngom (Senfablab, Dakar), Vaibhav Chhabra (Maker's Asylum, India), Nicolas Huchet (My Human Kit, France), but also of the projects of Labsud (Montpellier), la Fabrique d'objets Libres (Lyon), the rehabilitation center of Kerpape (Rehab lab), Konk ar Lab (Concarneau), the university of Bretagne Occidentale (project Handilab). Special guest: Braillerap SP.
As far as we know, this is the first time that such an international event gathering structures in the field of collaborative construction through digital fabrication for and with the concerned people, take place. We invite you to come and discover and share during the whole weekend, the entry is free!