From the 23rd to the 27th of October 2019, the Paris Games Week was held. This is a festival dedicated to videogames. We are part of this event and are present at the Play As You Are area ("Jouez Comme Vous Êtes" in French), a place for making videogames more accessible. Bionico (Nico Huchet), Rouliano (Julien Lebunetel) and Nicolight (Nico Pousset) are in for these few days of geekery.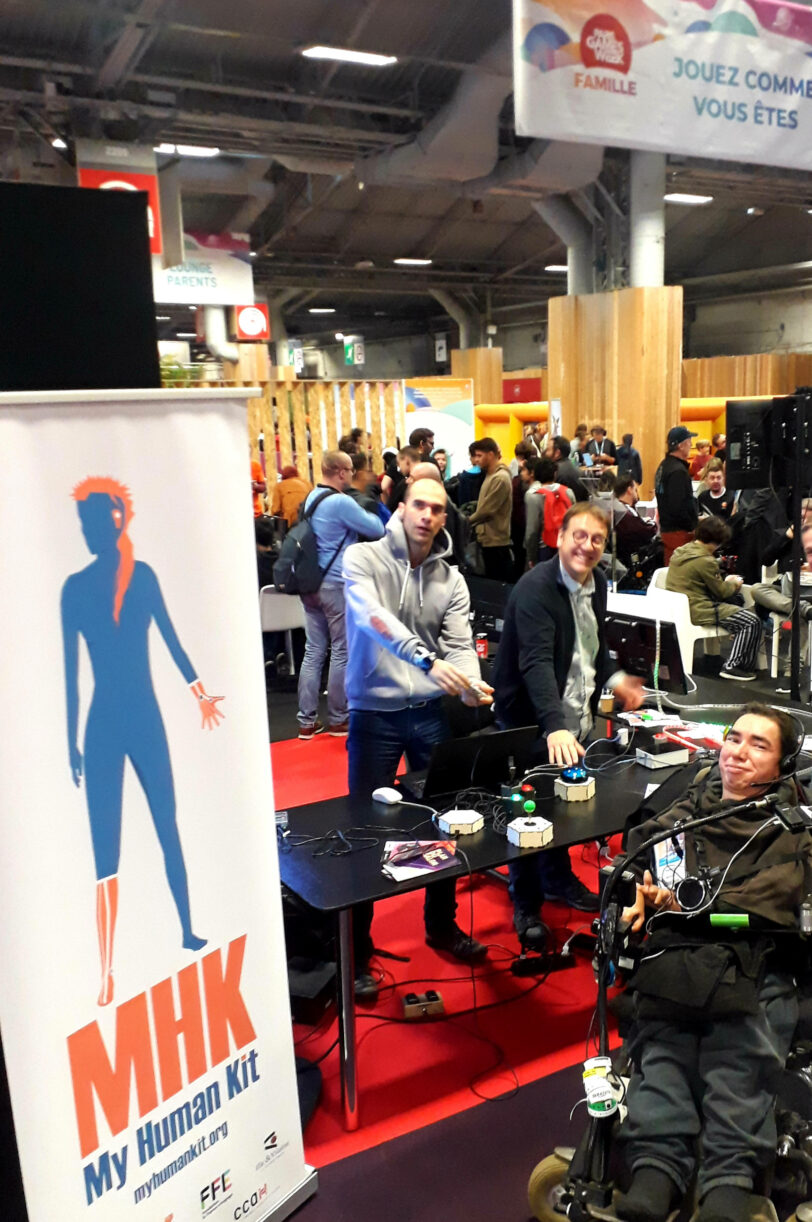 We must be adaptable and creative to make our stand attractive. We are able to offer accessible games thanks to the controls (pushbuttons, joysticks, etc.) manufactured at the Humanlab, using 3D printing or laser cutting. All these controls have something in common: they allow to trigger the button in an easier way than with a traditional gamepad. A traditional gamepad is composed of so many controls that are too small and hard to reach for some people.
Adapted controls are plugged into the control interface using mini-jack cables (equivalent of the XBOX Adaptative Controler, but open source), plugged in the computer through USB and recognized as the game controller. Documentation is in progress but some files are already available on  Github free download.
Then you just need to look for an  online game, match each control with a keyboard key, and you're ready to go for a multiplayer game! In this video, 8 players are challenging on G-Switch: Nicolight has won thanks to his low pressure sensor.
All these controls also allow children to discover classic games from vintage consoles, such as Mario Bros.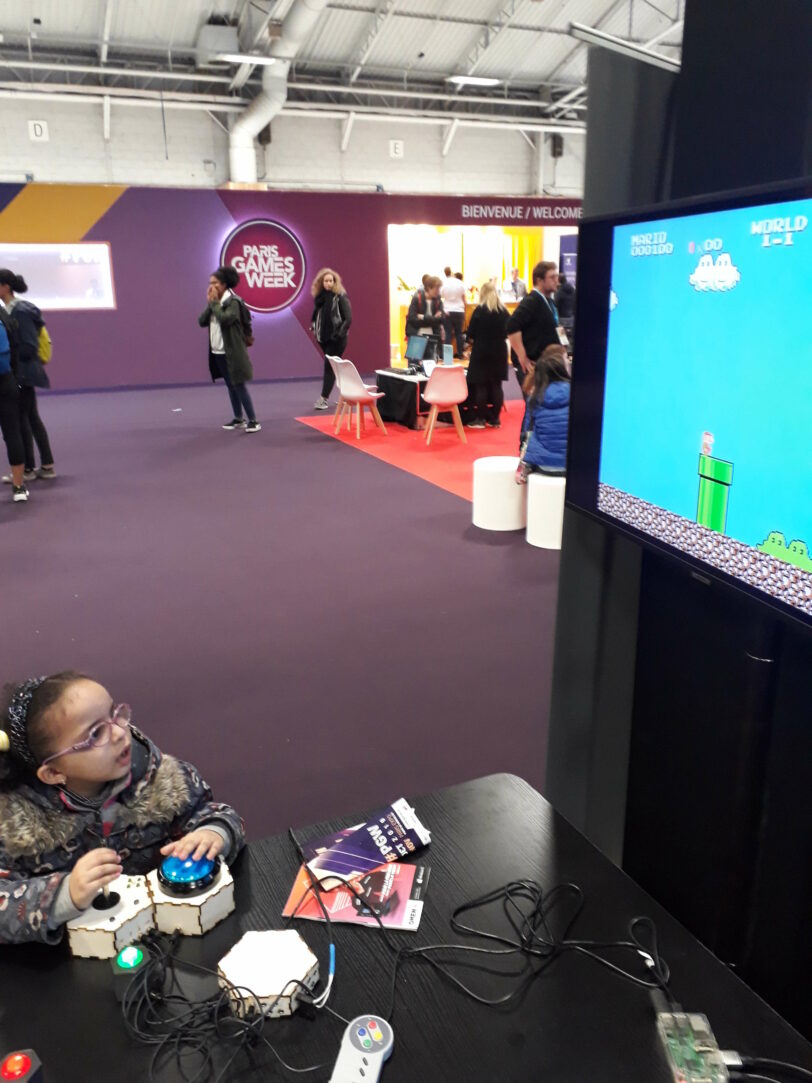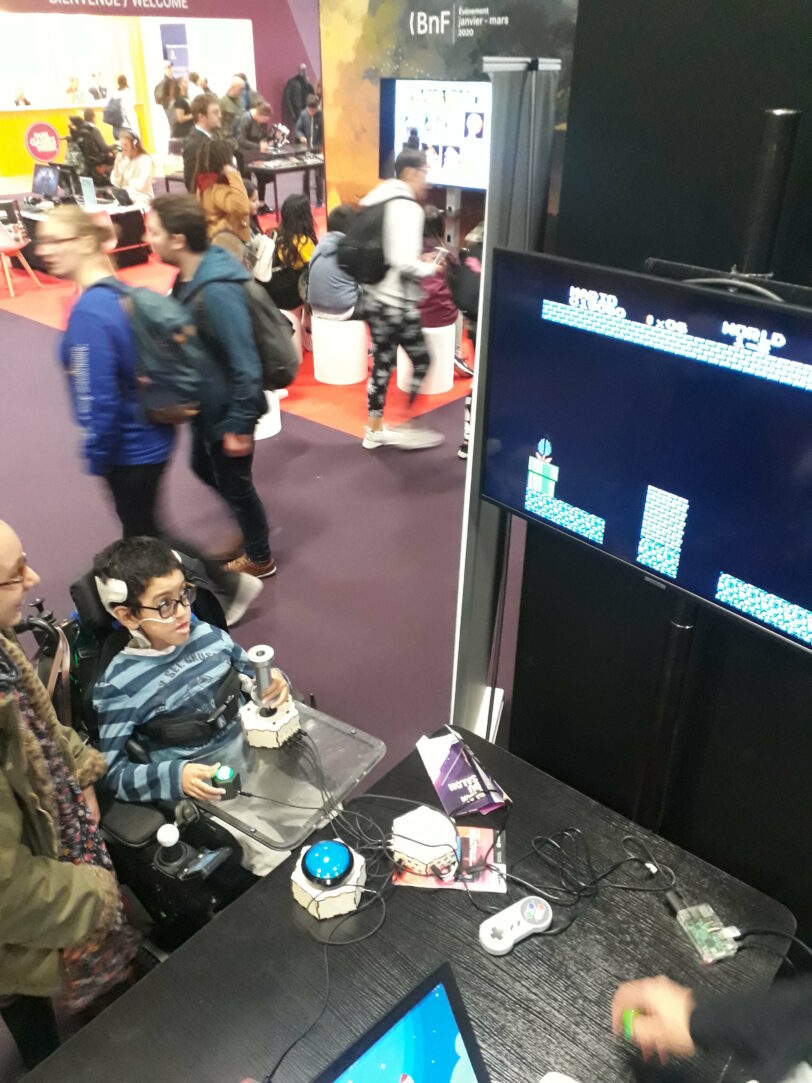 See below Starlight, a digital ping-pong made from a LED band in which 2 players can send back the light to the opponent using the control. In this video, players are using a low pressure sensor again (a sensor particularly used by people with less muscular strength).
The first we are part of the event is also an opportunity to push Jonathan Ménir forward, with B.A.S.I.C.A and Magic Joystick recently developed!
Paris Games Week is also a chance to meet some cool people at stands next to yours: Accessijeux, Naturalpad, Handigamers, Dragonium and Handifablab, "we geek you a lot guys!" We keep a wonderful memory of that evening with you, even though we were a bit shy because we couldn't talk to you. Fortunately, some pints of beer allowed us the break the ice and we had a right laugh!
We do not forget those who joined us from the Charentes (South-West of France) to entertain at the stands and to greet the public. Big up 16!
To conclude, our participation in the Paris Games Week inspired young people we are working with at Les Chalais secondary school (in Rennes). Some have indeed made gamepads with customized shapes. Star, diplodocus, skulls and crossbones, UHU for the pun with the glue stick and the joystick, unless the pupil got stuck 🙂 LOL. Other students got it into their heads to make a cuddly-toy gamepad!
Special thanks to the the students of CFFTR University Rennes 2 for the translation !